For the love of Super 8mm – big name directors first films on the shoestring medium
Matthew Cooper Director – For the love of Super 8mm – big name directors first films on the shoestring medium
My feature film debut as a director Markham featured a lot of super 8mm film, and I thought it would be nice to write a blogpost today, about super 8mm and its role in the careers of lots and lots of big name Hollywood directors.
The kids don't know, but back in the day, directors starting out didn't have mobile phones that record hi-def video or editing software that is pretty high spec (and often free).
In-fact, directors starting out didn't have phones or DSLRs and in most cases couldn't even shoot on video because it was too expensive to buy the kit.
So, directors such as Steven Spielberg, John Carpenter and Jim Cameron made films on Super 8mm.
Super 8mm was (and is again) a film stock; it was made by companies like Kodak and Agfa. Super 8mm film was designed to be played back through a projector, on a big screen at home. It was a very cut down, small format (often called shoelace or bootlace because it was so thin – 8mm- compared to 35mm film, the standard film format for Hollywood films at the time). Super 8mm was designed as a format that could be used by amateurs to record vacations and holidays, or weddings and other family events.
Super 8mm film, came in a cartridge (sound or silent). The cartridge was an easy load design and manufacturers all over the world made cameras that could shoot this film – from low spec point and shoot super 8 cameras- to very high spec semi-pro cameras.
Once you'd shot the film, it was posted back to the company who processed it into a positive print and then returned it to the users – the processing times could be anything from 3 weeks or longer, from time to time, the film you'd shot could go missing in the mail, or even lost at the lab! You were given a unique processing number for each roll of film. In the unfortunate event that the film got lost – all you received was a free blank cartridge.
Each cartridge held about 50 metres of film, which shot at 18 frames per second, would last about 3 and a half minutes, shot on 24 frames per second the film would last just under three minutes.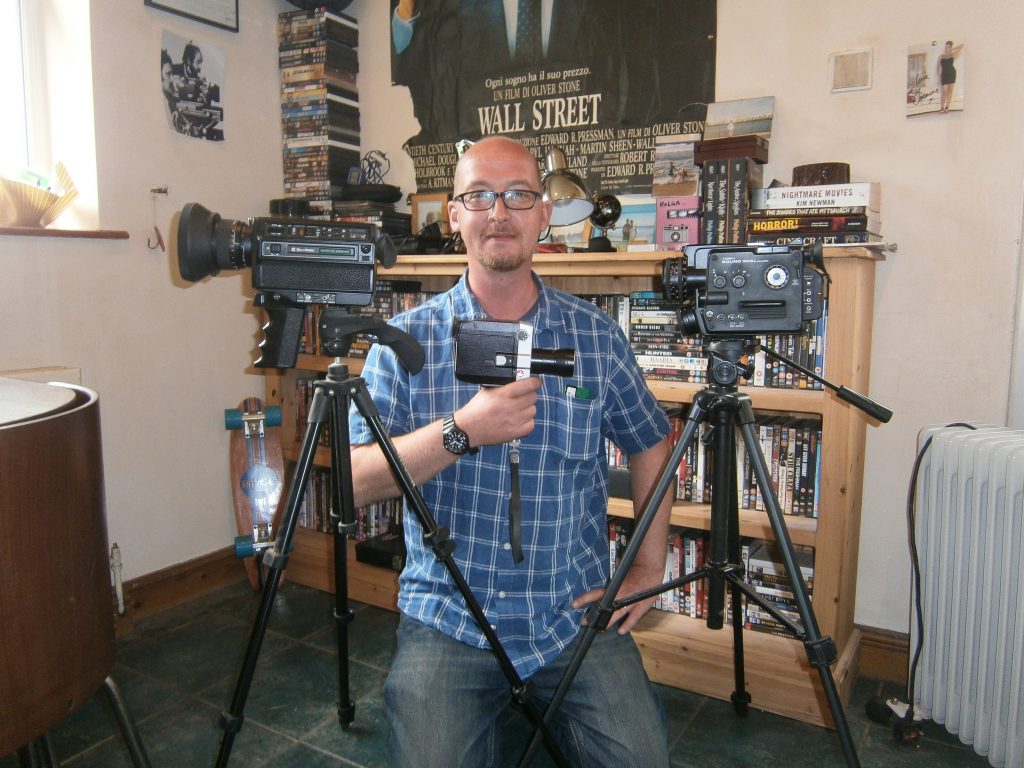 For all the faults of Super 8mm filmmaking, it was the best medium to learn the skills a director needs, from the 60s right up to the mid 90s lots and lots of directors and wannabe filmmakers shot on Super 8mm. Gradually video and digital video got more affordable, and Super 8mm died temporarily – it's back now, and available again form Kodak as part of the analogue resistance. It's now much more expensive and harder to get hold of, but its making a steady return (Kodak have even promised a new camera – but this has gone on for years, without a firm release date yet).
Many of the old Super8mm cameras are still in fine working order, and can be purchased on eBay. Models by firms such as Bauer and Nizo can be quite pricey still – but a good Bell and Howell or Eumig model (from the 80s) are still affordable for most people.
Editing these days will be done on software – back in the day, if you wanted to edit your super 8mm film it was done by cutting and splicing the film by hand – frame by frame. A real skill that lots of young directors cut their teeth doing (me included).
So, here's a fun thing – a few big name directors' Super 8mm productions are available online to see.
Let's start with James Cameron – his short 'Xenogenesis' shot on Super 8mm and made in 1978:
How about Richard Stanley? – Director of 'Dust Devil' and the recent 'Color out of Space' – his film "Incidents In An Expanding Universe" is below, and feels like a very 80s UK art school student type project:
Sam Raimi made 'Within the Woods' a Super 8mm version of 'The Evil Dead' was he was in his teens. He used to go from investor to investor and project the film on their office walls.
Below is my little short showreel on Super 8mm – 'Point Blank 1990' made in 1990 when I was 16. The film took nearly 6 months to put together in the end.
I'm really pleased that Super 8mm is back available and being used again – I shot a short funky film recently – it's below.
Matthew Cooper has been a script writer for hire, UK Script editor and UK script consultant for over 20 years. He's written for most of the UK soaps, including writing award-winning episodes of Emmerdale, EastEnders, Hollyoaks and Family Affairs and has been BAFTA shortlisted and Royal Television Society nominated as a script writer. His UK script coverage service, Script reading service and script development service are highly sought after.
You can find some of his broadcast credits on the IMDb.
You can contact Matthew directly to purchase his ebook The UK Soap Opera Script Writers Handbook.
His directorial debut, the rubber reality horror thriller Markham was released in 2020. You can find out more about Matthew's work as a director here.
You can get in touch with Matthew on matcoop23@yahoo.co.uk.