Dark Eyes of London put their focus on Matthew Cooper director
David Dent is a horror and fantasy films critic who has set himself an incredible task of cataloguing every British fantasy film from 2020 onwards across on his blog Dark Eyes of London.
While doing this, David came across my feature debut as a director Markham (2020), which he was enthusiastic about. He then followed this up with some very kind words about my second film At the Mountains of Madness (2021).
David has been so supportive that when he launched his Dark Eyes of London fanzine in print, he feature both films in the first issue, and myself and the team are really honoured to feature in the fanzine – because apart from anything, the magazine is a brilliant read.

With the world wide web appearing many moons ago printed fanzines kind of died a death – but it's so nice to actually have a printed copy of something (and I say this as a digital first person).

I remember buying horror fanzines like Deep Red back in the 80s and this magazine is along those lines.

If you want to buy a copy its £3 and you'll have to track down the author on Twitter – David Dent – Dark Eyes of London – Twitter handle (@darkeyesofldn)

Also in the mag are directors Louisa Warren (Curse of the Scarecrow) , Tom Lee Rutter (The Pocket Film of Superstitions) and Charlie Steeds (Death Ranch).

I guarantee you'll end up buying some DVDs or streaming some films you've never heard of – which is kind of the point.
You can buy Markham on VOD here. You can also buy At the Mountains of Madness on VOD here.
If you want to purchase either film on DVD click here.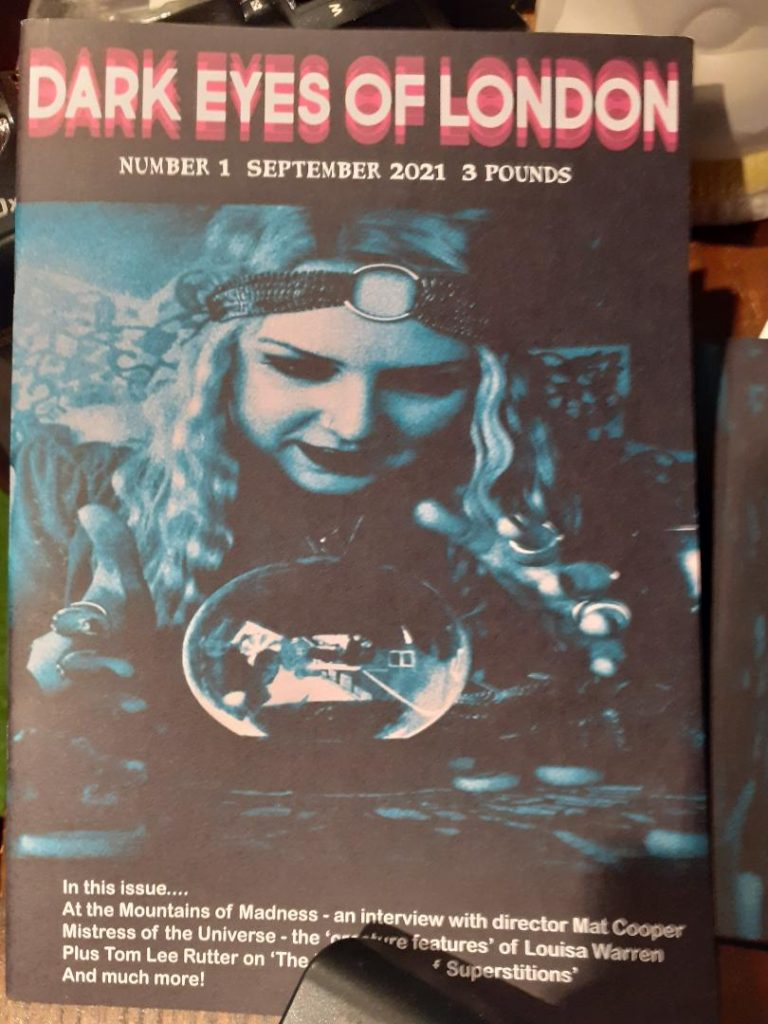 Matthew Cooper has been a script writer for hire and UK script consultant for over 20 years. He's written for most of the UK soaps, including writing award-winning episodes of Emmerdale, EastEnders, Hollyoaks and Family Affairs and has been BAFTA shortlisted and Royal Television Society nominated as a script writer.
His directorial debut, the rubber reality horror thriller 'Markham' was released in 2020, his second feature film as director 'At The Mountains Of Madness' hit the screen in 2021. You can find out more about Matthew's work as a director here.
You can find some of his broadcast credits on the IMDb.